34 Jesus answered them, "Most assuredly, I say to you, whoever commits sin is a slave of sin. 35 And a slave does not abide in the house forever, but a son abides forever. 36 Therefore if the Son makes you free, you shall be free indeed. John 8:34-36 NKJV
This song is about freedom. Free from the tyranny of self, free from the opinion of doubters, set free from the chains of our past and the hopelessness of life without God. God's kindness has brought us in from the outside and made us royalty. God's truth over us is final.
Sometimes it's good to remind our selves that God says over us, "You are chosen", "You are called of God", "You are being changed into His image", "You are a new creation". – Reuben Morgan
Song Lyrics
VERSE 1
Who am I that the Highest King
Would welcome me
I was lost but He brought me in
Oh His love for me
Oh His love for me
CHORUS
Who the Son sets free
Oh is free indeed
I'm a child of God Yes I am
VERSE 2
Free at last He has ransomed me
His grace runs deep
While I was a slave to sin
Jesus died for me
Yes He died for me
CHORUS 2
Who the Son sets free
Oh is free indeed
I'm a child of God Yes I am
In my Father's house
There's a place for me
I'm a child of God Yes I am
BRIDGE
I am chosen Not forsaken
I am who You say I am
You are for me Not against me
I am who You say I am
Words and Music by Ben Fielding & Reuben Morgan © 2017 Hillsong Music
Worshipers' Reviews
I was at my youth club and they asked us to listen to the words of this song. I already had heard this song many times before but haven't sat down and took thought on the lyrics. I was going through anxiety about myself being ugly annoying no one wants me. And the line that stood out was 'in my fathers house there's a place for me' I started crying and I am now free from anxiety. Thank you Jesus ❤️❤️❤️❤️❤️ – Chloe Bennett
Hi, everyone! I was listening to the latest songs of Hillsong and I don't know really why but I just felt I should write a comment in this section. It's been pretty amazing for me how my relationship with God started. Although I was born in a family where I learnt about God, He was nothing more than a standard of morality to me. I couldn't comprehend the essence of a personal reliationship between Him and I and that's the main cause which led me to the point I was about to become an atheist.
One night I remember asking God if He is truly real. Of course, I didn't receive the answer immediately but after a few days a pop-up window appeared on my desktop recommending me a song called "I surrender" which had around 80 mil views then. That made me extremely curious as it was unusual to me to see a song with such a great number of views about which I hadn't heard of before. I clicked and was so surprised to find out that it was a christian song!
I can't tell tell you exactly what happened but I almost immediately started crying with tears of joy, I felt such an incredible feeling of peace and accomplishment, it was for the first time I could feel the presence of God, I couldn't help smiling. I surrendered and couldn't be more aware of how great His love is. He saved me from a meaningless life.
He is the one who defends me and my accusers walk away, He is the one who strenghtens me every moment, He was the one who believed in me when no one else did, He is my light and my way. But even more than that, Jesus is my best Friend! How blind I was but I am tremendously grateful that I am found now! I am a child of God! For all those struggling, do not despair, do not give up, for Jesus is with you wherever you go! In Jesus' name. Have a blessed day 🙂 – Nemo Cousteau

Who you are in Christ?
You are chosen – 1 Thess 1:4.
You are called of God – 2 Tim 1:9.
You are being changed into His image – 2 Cor 3:18.
You are a new creation – 2 Cor 5:7.
You are the temple of the Holy Spirit – 1 Cor 6:19.
You are forgiven of all your sins – Eph 1:7.
You are redeemed from the curse of the law – Gal 3:14.
You are blessed – Gal 3:9.
You are the head and not the tail – Deut 28:13.
You are above and not beneath – Deu 28:13.
You are victorious – Rev 12:11.
You are set free – John 8:31.
You are strong in the Lord – Eph 6:10.
You are healed by His wounds – 1 Peter 2:24.
You are free from condemnation – Rom 8:1.
You are reconciled to God – 2 Cor 5:18.
You are joint heirs with Christ – Rom 8:17.
You are more than a conquerer – Rom 8:37.
You are accepted in Him – Eph 1:6.
You are complete in Him – Eph 2:5.
You are dead to sin – Rom 6:2.
You are alive with Christ – Eph 2:5.
You have the mind of Christ – Phil 2:5.
You can do all things in Christ Jesus – Phil 4:13.
You are the light of the world – Matt 5:14.
You are the salt of the earth – Matt 5:13.
You always triumph in Christ – 2 Cor 2:14.
You are beloved of God – Col 3:12.
You are one with Christ – John 17:21.
You are fearfully and wonderfully made – Ps 139:14.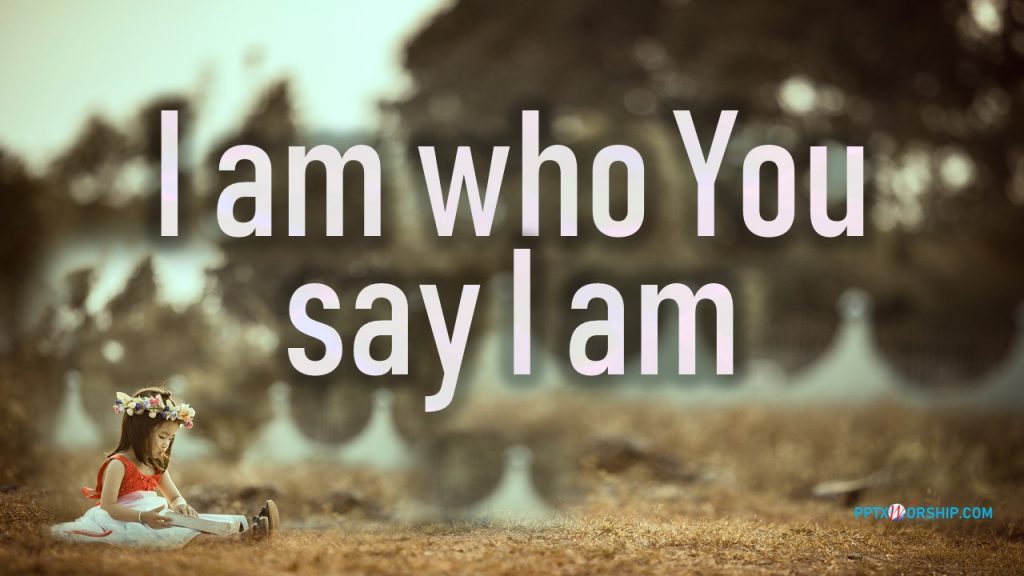 Note: You may full preview this PowerPoint worship song before purchasing by downloading the free version (see download link below).
RELATED WORSHIP SONGS: Goodness of God | See All Available Resources
Important!
Please read the User Agreement. Find necessary helps here: embedding Fonts and unzipping Rar files.
Please SHARE this post. Subscribe to our mailing list. Follow us @Facebook and Youtube. God bless your ministry.