The sting of death is sin, and the strength of sin is the law. But thanks be to God, who gives us the victory through our Lord Jesus Christ. – 1 Corinthians 15:56-57 NJKV
This song is about our victory in the Lord, the battles belong to Him as we cry out in worship. God as our King is all-powerful, He's the chain-breaker. He is unfailing.
27 Then, led by Jehoshaphat, all the men of Judah and Jerusalem returned joyfully to Jerusalem, for the Lord had given them cause to rejoice over their enemies. 28 They entered Jerusalem and went to the temple of the Lord with harps and lyres and trumpets. 29 The fear of God came on all the surrounding kingdoms when they heard how the Lord had fought against the enemies of Israel. 30 And the kingdom of Jehoshaphat was at peace, for his God had given him rest on every side. 2 Chronicles 20:27-30
Song Lyrics
VERSE 1
Our fight is with weapons unseen
Your enemies crash to their knees
As we rise up in worship
When trials unleash like a flood
The battle belongs to our God
As we cry out in worship
PRE-CHORUS
The victory is Yours
You're riding on the storm
Your name is unfailing
Though kingdoms rise and fall
Your throne withstands it all
Your name is unshaken
CHORUS
What hell meant to break me has failed
Now nothing will silence my praise
I will cry out in worship
The walls of the prison will shake
The chain breaking King will rise to save
As we cry out in worship
BRIDGE
You roar like thunder
Nothing can tame
A God all powerful
All powerful
We pull down Heaven
With shouts of praise
A God all powerful
All powerful
Words and Music by Brian Johnson, Ben Fielding, Matt Crocker, Reuben Morgan © 2019 Bethel Music
Worshipers' Reviews
Yes! I've been impatiently waiting for this song ever since I heard Brian singing it over little Jax when he was in the hospital! This song is truly about God's victory upon His children. – Yazir Witzil
My favorite song on the album. It is so powerful! We lift your name up, Jesus!!! – Amy Beckberger

We don't flourish in our hardships by wallowing in them. Nor do we flourish in our hardships by ignoring them. We flourish when we face what breaks our heart, and then we look up to Jesus, the keeper of our hearts. As we cooperate with Him, He helps us sort through our story in the most healing way possible. We flourish when we abide in Christ. We flourish when we steward what God has entrusted to us. And we flourish when we ruthlessly banish the attitudes and thoughts that weaken us. We've got to develop a backbone when it comes to the enemy and his plans to destroy us. May God show Himself strong on your behalf. May He show you how to wisely and strategically stand in this place. May you raise your shield of faith and block every fiery arrow the enemy sends your way. May you point your sword and dismantle every enemy scheme fashioned against you. May you know God's loving and intimate presence right here, right now. And may you experience firsthand how mighty, how powerful, and how faithful He truly is. God is mighty to save, He's with you in battle, and He's equipped you to win. – Johnny Sirmons
Powerful song & powerful testimony on how this song was born. This song is a living testimony of God's faithfulness & unfailing love to us!!!! – John Escalera
How about yours? Review this song and write in the comment section below.
Top 12 Bible Verses on Victory
And he shall say to them, O Israel: Today you are on the verge of battle with your enemies. Do not let your heart faint, do not be afraid, and do not tremble or be terrified because of them; for the LORD your God is He who goes with you, to fight for you against your enemies, to save you. – Deuteronomy 20:3-4
Yet in all these things we are more than conquerors through Him who loved us. For I am persuaded that neither death nor life, nor angels nor principalities nor powers, nor things present nor things to come, nor height nor depth, nor any other created thing, shall be able to separate us from the love of God which is in Christ Jesus our Lord. – Romans 8:37-39 NJKV
So he answered and said to me: This is the word of the LORD to Zerubbabel: Not by might nor by power, but by My Spirit, Says the LORD of hosts. – Zechariah 4:6
Finally, my brethren, be strong in the Lord and in the power of His might. Put on the whole armor of God, that you may be able to stand against the wiles of the devil. For we do not wrestle against flesh and blood, but against principalities, against powers, against the rulers of the darkness of this age,[c] against spiritual hosts of wickedness in the heavenly places. Therefore take up the whole armor of God, that you may be able to withstand in the evil day, and having done all, to stand. – Ephesians 6:10-13 NJKV
Salvation belongs to the LORD. Your blessing is upon Your people. – Psalm 3:8 NJKV
PowerPoint Slides Preview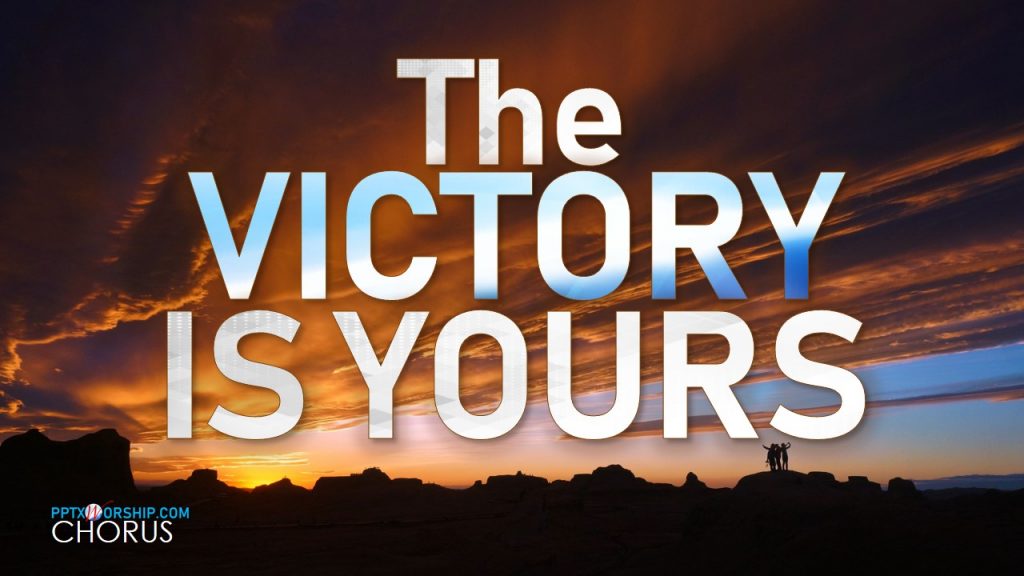 Important
Please read the User Agreement. Find necessary helps here: embedding Fonts and unzipping Rar files.
Note: You may full preview this PowerPoint worship song before purchasing by downloading the free version (see download link below).
May I ask for your support?
SHARE. Sharing our content through Social Media will boost our traffic and can help more churches and worship leaders like you.
SUBSCRIBE. Hit Like our Facebook page Let's Worship.
SIGN-UP. To receive periodic news report and updates from us, enroll to our mailing list.
SPEAK OUT. Leave a comment below.
To download this song for free, CLICK the link below:
Please SHARE this post. Subscribe to our mailing list. Follow us @Facebook and Youtube. God bless your ministry.