He says, "I will declare your name to my brothers; in the presence of the congregation I will sing your praises." Hebrews 2:12 (Psalm 22:22)
I proclaim righteousness in the great assembly; I do not seal my lips, as you know, O LORD . I do not hide your righteousness in my heart; I speak of your faithfulness and salvation. I do not conceal your love and your truth from the great assembly. Psalms 40:9-10
But as for me, I will always have hope; I will praise you more and more. My mouth will tell of your righteousness, of your salvation all day long, though I know not its measure. I will come and proclaim your mighty acts, O Sovereign LORD ; I will proclaim your righteousness, yours alone. Since my youth, O God, you have taught me, and to this day I declare your marvelous deeds. Even when I am old and gray, do not forsake me, O God, till I declare your power to the next generation, your might to all who are to come. Psalms 71:14-18
Song Lyrics
VERSE
Lord, I lift Your name on high
Lord, I love to sing Your praises
I'm so glad You're in my life
I'm so glad You came to save us
CHORUS
You came from Heaven to earth to show the way
From the earth to the cross my debt to pay
From the cross to the grave
From the grave to the sky
Lord, I lift Your name on high
Words and Music by Rick Founds © 1989 Universal Music – Brentwood Benson Publishing (Admin. by Brentwood-Benson Music Publishing, Inc.
Lord, I Lift Your Name on High is a worship song. It was written by Rick Founds in 1989.
Founds wrote the song during his morning devotion, while reading the scriptures on his computer monitor and watching television. He plucked his guitar thinking about the "cycle of redemption", comparing it with the water cycle.
Founds performed the song as a worship leader in his church. It was picked up by Maranatha! Music and initially recorded by the Maranatha! Singers followed by the Praise Band. Promise Keepers performed the song in English and Spanish in their drives. -Wikipedia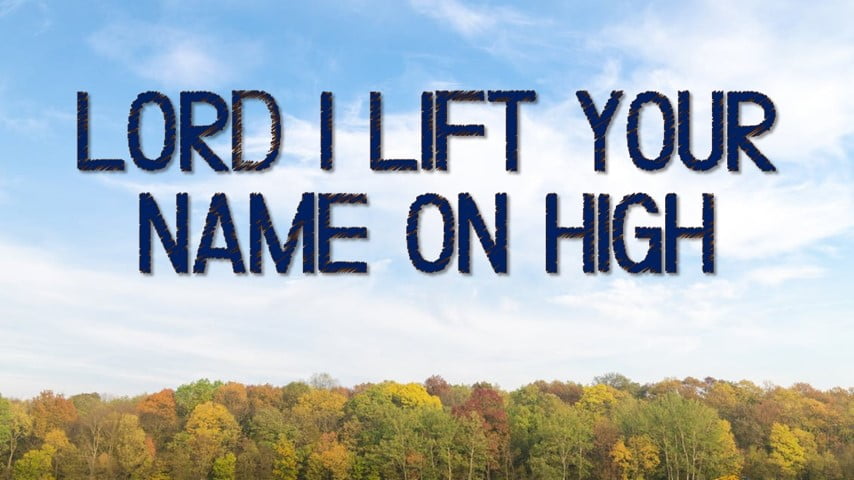 Important!
Please read the User Agreement. Find necessary helps here: embedding Fonts and unzipping Rar files.
The PowerPoint Worship Songs Premium version has Slide Master where you can edit the main layout, re-use and create new songs using the same format. It is 100% Editable PowerPoint Template. You can add your own images as part of background layout options. You may also add your church logo. Fonts are beautifully selected. Clean, large and simple. Lyrics are editable. By default, there's no animation. You may add effects, change the fonts, and colors. This is created with excellence for the glory of God.
PPTX Worship Unique Features:
No website watermark logo
PowerPoint Slide Master available
Clean, Simple and Visibly Large
100% Editable PowerPoint Template
Customized for Easy Live Presentation
Modern 16:9 Aspect Ratio
High Quality Visual Images
Free Fonts included
LOOKING FOR MORE WORSHIP SONGS: See All Available Resources Here
Please SHARE this post. Thank you. God bless your ministry.