Blessed Assurance is a hymn of trust to the Savior of our lives. It is a testimonial hymn of praise to Christ for his work of redemption, for the Spirit's work of sanctification, and for the joy of serving Jesus. And here are some Bible verses, Scripture readings for call to worship relevant to the song Blessed Assurance.
1 Thessalonians 1:5
For our gospel did not come to you in word only, but also in power, and in the Holy Spirit and in much assurance, as you know what kind of men we were among you for your sake.
John 3:5-6
Truly, truly, I say to you, unless one is born of water and the Spirit he cannot enter into the kingdom of God. That which is born of the flesh is flesh, and that which is born of the Spirit is spirit.
Psalm 35:28
And my tongue shall declare Your righteousness And Your praise all day long.
Isaiah 12:2-5
Surely God is my salvation; I will trust, and will not be afraid, for the Lord God is my strength and my might; he has become my salvation. 3 With joy you will draw water from the wells of salvation. And you will say in that day: Give thanks to the Lord, call on his name; make known his deeds among the nations; proclaim that his name is exalted. Sing praises to the Lord, for he has done gloriously; let this be known in all the earth.
Galatians 4:6-7
And because you are children, God has sent the Spirit of his Son into our hearts, crying, "Abba! Father!" So you are no longer a slave but a child, and if a child then also an heir, through God.
Ephesians 3:11-12
This was in accordance with the eternal purpose that he has carried out in Christ Jesus our Lord, 12in whom we have access to God in boldness and confidence through faith in him.
STANZA 1
Blessed assurance, Jesus is mine!
Oh, what a foretaste of glory divine!
Heir of salvation, purchase of God,
Born of His Spirit, washed in His blood.
REFRAIN
This is my story, this is my song,
Praising my Savior all the day long;
This is my story, this is my song,
Praising my Savior all the day long.
STANZA 2
Perfect submission, perfect delight,
Visions of rapture now burst on my sight;
Angels, descending, bring from above
Echoes of mercy, whispers of love.
STANZA 3
Perfect submission, all is at rest,
I in my Savior am happy and blest,
Watching and waiting, looking above,
Filled with His goodness, lost in His love.
Words and Music by Frances J. Crosby, 1873 © Public Domain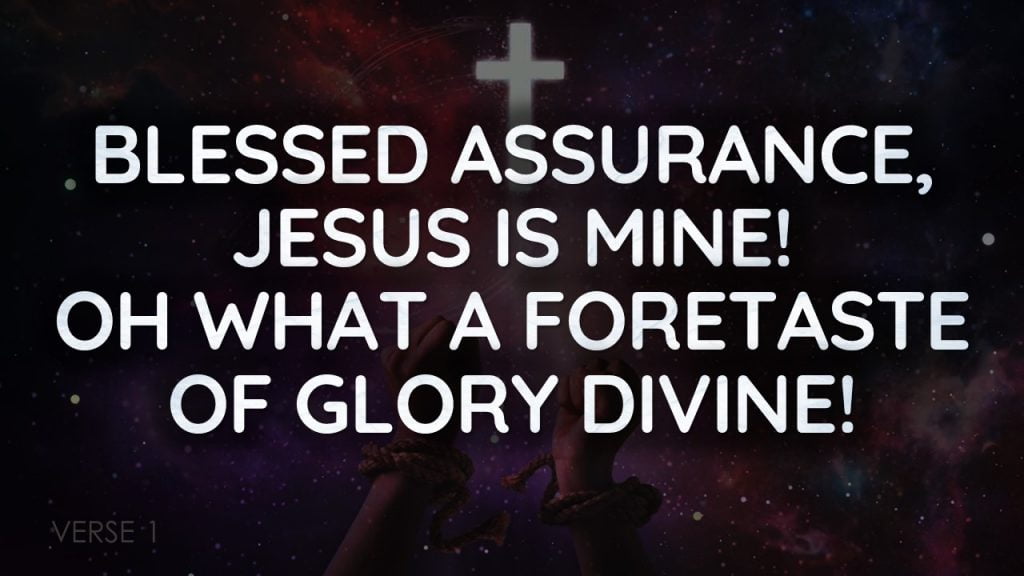 PPTX Worship premium version is 100% editable PowerPoint template. It has 3 layout designs on each worship song! No website watermark logo. You can add your own images as part of background layout options.
You may also add your church logo. Fonts are beautifully selected, clean, large, simple and readable. You may add effects, change fonts, and colors.
Customized for Easy Live Presentation in Modern 16:9 aspect ratio. High Quality visual images. Free Fonts included. It is a Lifetime Access with unlimited downloads!
You may access all your purchased product in your My Account for life! Visit PPTX Worship Store to purchase this PowerPoint song.