Greater love has no one than this, that he lay down his life for his friends. You are my friends if you do what I command. I no longer call you servants, because a servant does not know his master's business. Instead, I have called you friends, for everything that I learned from my Father I have made known to you. John 15:13-15
A friend loveth at all times, and a brother is born for adversity. Proverbs 17:17
Do not be anxious about anything, but in everything, by prayer and petition, with thanksgiving, present your requests to God. And the peace of God, which transcends all understanding, will guard your hearts and your minds in Christ Jesus. Philippians 4:6-7
Song Lyrics
STANZA 1
What a friend we have in Jesus,
All our sins and griefs to bear!
What a privilege to carry
Everything to God in prayer!
Oh, what peace we often forfeit,
Oh, what needless pain we bear,
All because we do not carry
Everything to God in prayer!
STANZA 2
Have we trials and temptations?
Is there trouble anywhere?
We should never be discouraged—
Take it to the Lord in prayer.
Can we find a friend so faithful,
Who will all our sorrows share?
Jesus knows our every weakness;
Take it to the Lord in prayer.
STANZA 3
Are we weak and heavy-laden,
Cumbered with a load of care?
Precious Savior, still our refuge—
Take it to the Lord in prayer.
Do thy friends despise, forsake thee?
Take it to the Lord in prayer!
In His arms He'll take and shield thee,
Thou wilt find a solace there.
STANZA 4
Blessed Savior, Thou hast promised
Thou wilt all our burdens bear;
May we ever, Lord, be bringing
All to Thee in earnest prayer.
Soon in glory bright, unclouded,
There will be no need for prayer—
Rapture, praise, and endless worship
Will be our sweet portion there.
Worship Essentials: Growing a Healthy Worship Ministry without Starting a War!
Words and Music by Joseph M. Scriven, 1855 © Public Domain
Worship Leader Handbook: For worship pastors, leaders, music directors, or whatever your email signature may say.
LOOKING FOR WORSHIP SONGS: See All Available Resources Here
IMPORTANT: Please read the User Agreement. Find necessary helps here: embedding Fonts and unzipping Rar files.
Musical Score HERE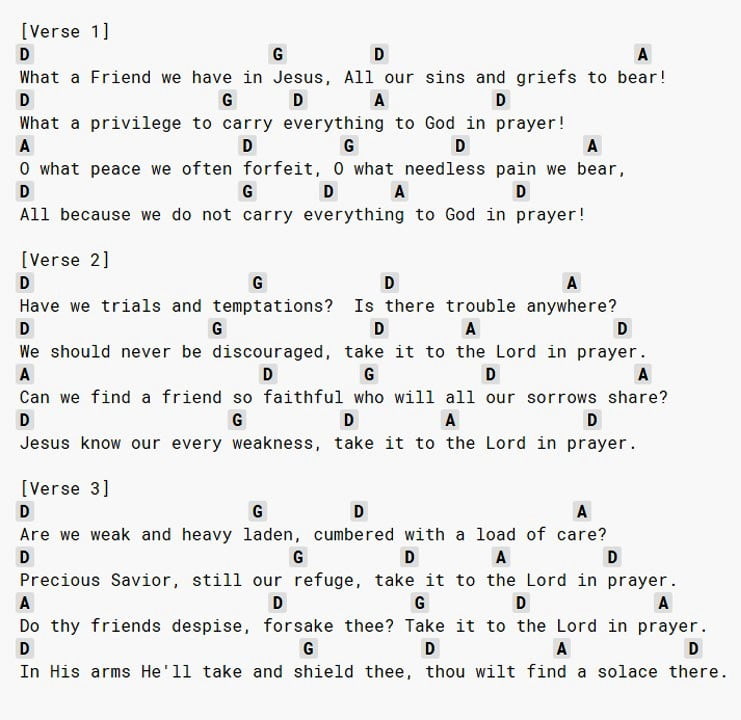 Please SHARE this post. Thank you.

God bless your ministry.