But now, thus says the LORD, who created you, O Jacob, And He who formed you, O Israel: Fear not, for I have redeemed you; I have called you by your name; You are Mine. When you pass through the waters, I will be with you; And through the rivers, they shall not overflow you. When you walk through the fire, you shall not be burned, Nor shall the flame scorch you. Isaiah 43:1-2
Fear not, for I am with you; Be not dismayed, for I am your God. I will strengthen you, Yes, I will help you, I will uphold you with My righteous right hand. Isaiah 41:10
No temptation has overtaken you except such as is common to man; but God is faithful, who will not allow you to be tempted beyond what you are able, but with the temptation will also make the way of escape, that you may be able to bear it. 1 Corinthians 10:13
Song Lyrics
VERSE 1
I have this confidence because
I've seen the faithfulness of God
The still inside the storm, the promise of the shore
I trust the power of Your word
Enough to seek Your Kingdom first
Beyond the barren place, beyond the ocean waves
CHORUS 1
When I walk through the waters, I won't be overcome
When I go through the rivers, I will not be drowned
My God will make a way, so I am not afraid
VERSE 2
You keep the promises You make
There isn't one that is delayed
So I will not lose heart, here, I will lift my arms
And start to sing into the night
My praise will call the sun to rise
Declare the battle won, declare that it is done
CHORUS 2
When I walk through the waters, I won't be overcome
When I go through the rivers, I will not be drowned
My God will make a way, so I am not afraid
When I am in the fire, I will not feel the flame
I'll stand before the giant, declaring victory
My God will make a way, so I am not afraid
BRIDGE
Before me, behind me, always beside me
No shadow, no valley, where You won't find me
No, I am not afraid
Before me, behind me, always beside me
No shadow, no valley, where You won't find me
No, I am not afraid
I am not afraid
Worship Essentials: Growing a Healthy Worship Ministry without Starting a War!
Words and Music by Adaeze Noelle Azubuike, David Anderson, Mia Fieldes & Travis Ryan © 2018 Jesus Culture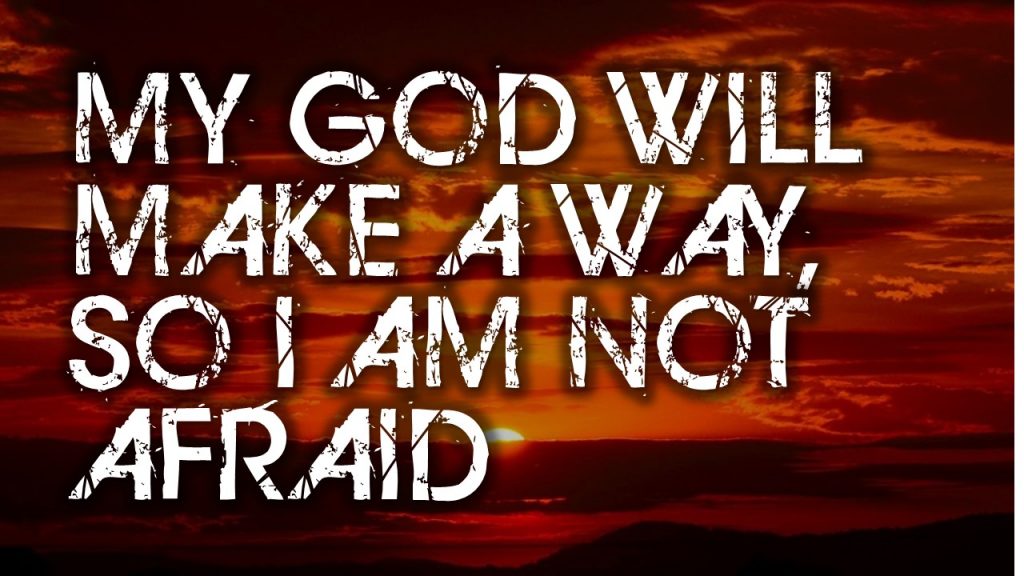 LOOKING FOR WORSHIP SONGS: See All Available Resources Here
Worship Leader Handbook: For worship pastors, leaders, music directors, or whatever your email signature may say.
IMPORTANT: Please read the User Agreement. Find necessary helps here: embedding Fonts and unzipping Rar files.
Please SHARE this post. Thank you.

God bless your ministry.